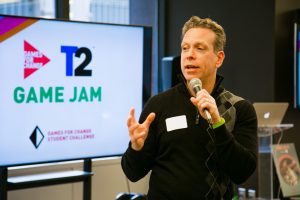 On Saturday, March 11th, over 50 middle and high school students gathered at Grand Central Tech's Microsoft Reactor Hub for the NYC Games for Change (G4C) Student Game Jam, supported by Take-Two Interactive. Students met leaders from Take-Two, including G4C Board member Alan Lewis, and worked with two NYC game designers as they participated in our fifth game jam of the school year.
After an opening presentation by G4C President Susanna Pollack on the power and potential of video games to drive social change, students were divided into groups and guided through the game design process in a rapid-fire game jam: inventing games using unconventional materials as their game components, playtesting mechanics and refining their rules, and iterating to improve the gameplay.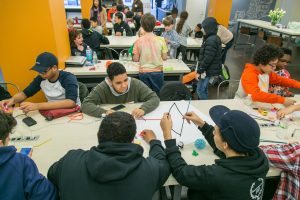 After playtesting and a group critique, we took a pizza break and played NBA 2K17 (one of Take-Two's game franchises).

In the second half of the day, the students flexed their digital game making skills, using Slack, Gamestar Mechanic and Unity to create games about the three G4C Student Challenge themes (Future Communities, Climate Change, and Local Stories & Immigrant Voices).
Guests from Take-Two's marketing and HR teams made rounds, answering questions about what it's like to work in the games industry and what types of jobs exist in big game companies like Take-Two (hint: not just programmers and developers, but also artists, writers, sales, PR and many more!).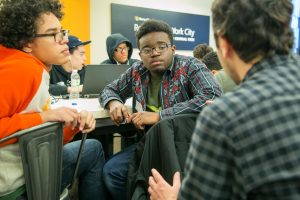 Two game design advisors who have been mentoring students in G4C Student Challenge schools also provided advice and feedback to students teams as they worked on their games, and Alex from Mouse provided Scratch expertise.
This game jam helped pave the way to the finish line for students submitting games to the NYC G4C Student Challenge. Games must be playable on a web browser and tackle one of the three Challenge themes. Students need to submit their games by April 12th for the chance to win prizes provided by Ubisoft and other partners.