Games for Change is thrilled to announce the winners of the 2019 Games for Change Student Challenge – and to recognize all competitors for their impressive games and innovative approaches to tackling social impact themes.
This year, students in NYC, LA, Detroit and Atlanta were challenged to design and code games about three social impact themes: Automated Communities 2050, Disrupt Aging: Implications of Living 100 and Endangered Species. Students in NYC could also submit games about a fourth theme: Gender Equity, Diversity & Inclusion. Students worked as individuals or in teams of up to four and the games were created using a variety of platforms including Unity, Scratch, Twine, Javascript, GameLab, RPG Maker, CSS, Snap and more!
In the end, we received a total of 932 games from 1,735 students across the four cities – by far the largest and most impressive pool of competition games to date. And through a rigorous jury process (involving over 60 professional judges!) – we identified 111 competition finalists, 25 winning games and 4 Grand Prize Winners (see full list below). The winning games teach strategies for protecting threatened species, recommend healthy lifestyle choices to help us live long and prosperous lives, imagine future cities powered by robots and feature diverse, equitable and inclusive communities.
Thank you to all student competitors for their hard work and for participating in the 2019 G4C Student Challenge! We would like to recognize the competition finalists, whose impressive games stood out from the pack – and the competition winners, whose remarkable games rose to the top. We look forward to playing more games created by these talented students!
Check-out this year's winning games on the Student Challenge website here: bit.ly/SC-Winners.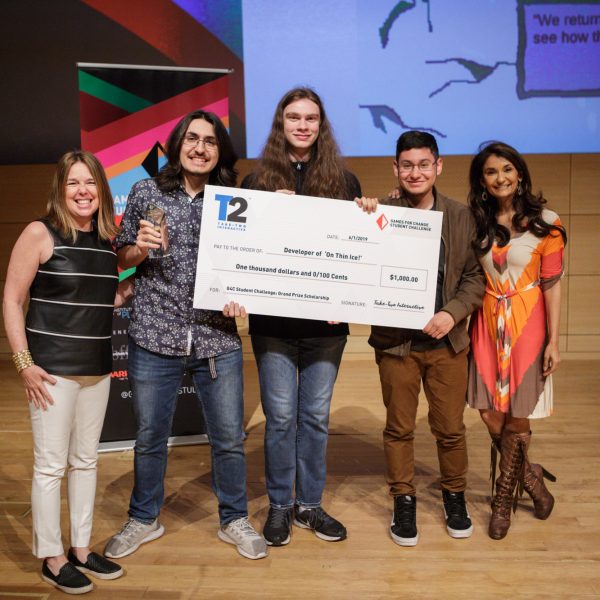 ---
2019 G4C Student Challenge: Winners
NYC
Grand Prize Winner
On Thin Ice!: Benicio L, Thomas C, Anthony C — The School of Interactive Arts
Automated Communities 2050
Winners
PacifAI: Larissa F — The School of Interactive Arts
Future Foretold: Emile R, Shaurya S, Shailene P — Stephen A. Halsey JHS 157
Finalists
SwiftScale: Kartik K, Anthony S — Tottenville High School
The World of Automation: Adifet C, Nikiforos P, Alex C, Peter L — Eleanor Roosevelt High School
Project Xeno: Brandon W, Jawad R, Anis M, Fardin C — Information Technology High School
Robot rat killer 2050: Emmett M — Eleanor Roosevelt High School
Abogou: The Hacking Of Cars: Erika Y — PS/IS 102Q
Sunset City: Allie R — The 30th Avenue School
Living in the Future: Sean K, Parveer S — Irwin Altman Middle School 172
Automize It: Stephan M, Christopher K, Andrew B, Tejas M — Stephen A. Halsey JHS 157
Disrupt Aging: Implications of Living 100
Winners
Catch 100!: Melvin D — The School of Interactive Arts
Living to 100: Afsana R — Stephen A. Halsey JHS 157
Finalists
Choice: Catelen W, Kyle T, Darren C — Brooklyn Technical High School
Living a Long, Healthy Life: Lia S, Isabella S — Tottenville High School
[email protected]$: Alice P — Information Technology High School
Living to 100: Mars: Andoni N — Information Technology High School
The Opt-Cap Hospital: Matthieu D, Tahrim H, Noshin S — PS/IS 102Q
Disrupt Aging – James' Quest: Amyruth R, Ying C — PS/IS 102Q
Life to the Fullest!: Sasha V, Tyra K — Irwin Altman Middle School 172
Make the Right Choice: Wilson L, Zachary H, Michael T — Stephen A. Halsey JHS 157
Endangered Species
Winners
On Thin Ice!: Benicio L, Thomas C, Anthony C — The School of Interactive Arts
Swim! Endangered Species: Fawaz S, Greg K, Yorkin B, Aden P — Stephen A. Halsey JHS 157
Finalists
Water Dangers: Justin D, Joseph C, Vidalis F — Urban Assembly Gateway School For Technology
Ranger Jane: Aaron V — The School of Interactive Arts
Don't Disappear: Jenna M — Tottenville High School
Little Sea Turtle: Jasmine C — The School of Interactive Arts
Save the Endangered: Gabriel M — I.S. 239 Mark Twain
Save the Pandas!: Sreejita R, Natalie S, Madison C, Stephanie S — Irwin Altman Middle School 172
Save Them All Maze: Madaline B, Ariana N — Irwin Altman Middle School 172
Patriotic Poaching Control: Priyam S, Nathan D, Ethan A, Rohan B — Irwin Altman  Middle School 172
Save the Polar Bears!: Victoria I, Henry C — PS/IS 102Q
Envision Gender Equity, Diversity & Inclusion
Winners
Dream Job: Sadiya H, Sanjana H — The Young Women's Leadership School of Astoria
The Issue With Gender Equality in STEAM: Lillian M — M.S. M245 The Computer School
Finalists
Choices: Alexandra K, Daisy T, Myrna K, Maham — Tottenville High School
Fight for Equity: Sydney B, Samantha R, Shayoni N — Eleanor Roosevelt High School
Diversity in the workforce: Andoni N — Information Technology High School
The Oficina: Brian V — Information Technology High School
Equality For All: Katie C — Reah J Irwin Altman Middle School 172
LOS ANGELES
Grand Prize Winner:
The Life of a Red Panda: Albert S, Iris K, Ricardo F, Matvey F — STEM Academy of Hollywood
Automated Communities 2050
Winners
Flu Hero 2050: Lana N — Girls Academic Leadership Academy
Battery: Axel C, Jared K — South Gate Middle School
Finalists
final project: Olivia F, Madeline D — Girls Academic Leadership Academy  
Automated DisFuture: Bryan R, Oscar S — STEM Academy of Hollywood
The Other Side: Luis Q, Maxwell E, Brandon S — Venice Senior High School
Evolution 2050: Kevin G, Osman A  — South Gate Middle School
The Future 2050:  Paul Z, Florence — Nightingale Middle School
Life in 2050: Alex T — Florence Nightingale Middle School
Disrupt Aging: Implications of Living 100
Winners
Avery's Way: Sasha F, John A — STEM Academy of Hollywood
Life…. Just Longer: Miguel G — Francisco Sepulveda Middle School
Finalists
Steps To Survival: Cole B, Mathew B, Amir H, Eric B — William Howard Taft Charter High School
Living to 110: Diana T — Los Angeles Leadership Academy 
Your Life in a Day: Rebecca L — Venice High School
Living to 100: Ismael D — Francisco Sepulveda Middle School
Dark Light: Antonio M — Daniel Webster Middle School
Living Long: Yeshua H — Joseph Le Conte Middle School
Mouse Learns How to Live Long and Healthy: Sussell C — Joseph Le Conte Middle School
Endangered Species
Winners
The Life of a Red Panda: Albert S, Iris K, Ricardo F, Matvey F — STEM Academy of Hollywood
Life Without Animals: Marina U — South Gate Middle School
Finalists
Whale Wander: Jaxobi A, Alex K, Michael K, Tyler N — William Howard Taft Charter High School
Animal Adventures: Alisa W, Ilana F — William Howard Taft Charter High School
Critter Mail: Patty S — STEM Academy of Hollywood
Desperate: Ying T, Becky L, JiaYing L — Florence Nightingale Middle School
Help The Endangered Species: Diana H — Girls Academic Leadership Academy
BUNNY~YUMMY: Gabriela C — Francisco Sepulveda Middle School
Savanna Runner: Mufaddal R, Adnan M — Hale Charter Academy
ATLANTA
Grand Prize Winner:
Healthy Habitats: Koen V — PTC
Automated Communities 2050
Winners
Robo Garbage Collector: Jack B, Maxwell B, Felipe A — Centennial High School
Future Adventure: Saul R, Parker C — Barber Middle School
Finalists
Robots are taking over!! Game remix-2: Jadyn W — Maynard Holbrook Jackson High School
SunLight Drive: Khalil S, Tyreke W — New Manchester High School        
RoboCop: Alex R — Barber Middle School
Future 101: Raegan L, Paulina O — Barber Middle School
Auto Worlds of Helping: Nolan T — Lindley 6th Grade Academy
Disrupt Aging: Implications of Living 100
Winners
Living 100: Choose Your Own Adventure: Grace G — Maynard Holbrook Jackson High School
Life is HARD: Ava J, Audrey W, Zoe W — Barber Middle School
Finalists
Base for the Future!: Jeremiah A — Maynard Holbrook Jackson High School
Road to 100: The Game: Jordan K — Hillgrove High School
Living to 100 Quiz: Jason W — Barber Middle School
Junk Food Mania: Bryan C — Rex Mill Middle School
Living to 100: Maya D, Emily M — Barber Middle School
Endangered Species
Winners
Healthy Habitats: Koen V — PTC
Species Savior: Joshua K — Taylor Road Middle School
Finalists
Protect the Elephant: Jake M — Lambert High School
The Wild: Cory B — Centennial High School
EverSky: Ian I, Mason G, Eli D — Maynard Holbrook Jackson High School
Save the Macaw!!!: Varun S — Forsyth Virtual Academy
Save The Animals: Mayadia R, Marissah  E — Barber Middle School
Animo run: Emmanuel S, Madilyn Y — Barber Middle School
The Life of Animals: Sharon N, Salsibil S — Barber Middle School
Endangered Awareness: Mariam K, Addison H — Barber Middle School
DETROIT
Grand Prize Winner:
Prolong: Brandon B, Kenny A — Livonia Career Technical Center
Automated Communities 2050
Winner
Robo Burger: Miles R, Aaron W — Livonia Career Technical Center
Finalists
Galactic Gofer: Raffael C, Arissa C, Montez C, Ali K — Martin Luther King Jr. Senior High School
Flint 2250: Ethan W — Livonia Career Technical Center
CityHunt 2050: Stephen P — Livonia Career Technical Center
Future Boys: Brandon G — Livonia Career Technical Center
Disrupt Aging: Implications of Living 100
Winners
Prolong: Brandon B, Kenny A — Livonia Career Technical Center
Nursing Home Frenzy!: Sasha T, Kiahna D.H. — Bates Academy
Finalists
Healthy Boys: Brandon G, Antony S — Livonia Career Technical Center
Count on Living to 100: Matt E — Livonia Career Technical Center
The Museum of How We Lived to 100: Dawson S — Livonia Career Technical Center
Living to 100: Deacon S — Livonia Career Technical Center
Hands up to 100: Terriyanna G, Jaylyn J, Desaray G — Martin Luther King Jr. Senior High School
Living To 100: Jasmine A — Martin Luther King Jr. Senior High School
100 Years of Life!: Olivia K — Home School
Endangered Species
Winners
Guardian of the Underworld: Victor M, Andrew C — Livonia Career Technical Center
Save that Hare!: Victoria H — Bates Academy
Finalists
The Jeopardized Journey: Audra E, Lillian B — Livonia Career Technical Center
The Defender: Ernest H — Livonia Career Technical Center
Wolf Time: Aaron W — Livonia Career Technical Center
Endangered Species Conservation Race: Miles R — Livonia Career Technical Center
Fish Collector: Tyrone H, Dawon B — Martin Luther King Jr. Senior High School
Utopya: Joshua W, Darionne T, Kyle M, Larry T — Martin Luther King Jr. Senior High School
Cat Run 3.0: Harlan H — Bates Academy