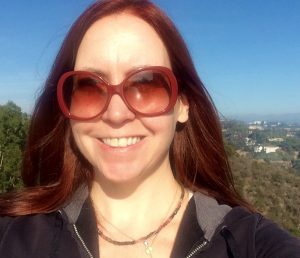 The Los Angeles Unified School District (LAUSD) is the second largest school district in the country, serving over 650,000 students each year. It is also the second largest employer in LA County, with a workforce of nearly 30,000 teachers! Within this massive school district is a remarkable computer science educator – and a distinguished member of the LA Student Challenge teacher cohort: Jennifer Stone. 
We spoke with her about how she implements the Challenge program and the successes she experiences with students year after year. 
TEACHER:  Jennifer Stone
TEACHER COHORT: Los Angeles
SCHOOL: STEM Academy of Hollywood
SUBJECT AREA: Computer Science
GRADE LEVEL TAUGHT: High School
YEARS PARTICIPATED IN THE PROGRAM: 3
Q: What do you like most about teaching game design?
A: I love the authentic and inspiring stories the students have to tell.
Q: What type of environment do you strive to create in your classroom?
A: I strive to create a positive, creative and collaborative environment, where students feel free to experiment, discover and grow through failure and success.
Q: Are you yourself a gamer?
A: I don't really invest my time into gaming that frequently, but I still really appreciate it.  I've really been enjoying exploring impact games. That's more meaningful to me than other types of gaming these days.
Q: How has this program changed the way you teach?
A: It's really exciting for the kids. I tried to make this competition accessible, not just to my computer programming and game design students, but also to the intro [to computer science] students and my AP classes where they don't do game design at all. They still hear about the Challenge… Even though a class doesn't focus on game design, I do carve out a unit for it and I encourage them to submit. It's such a great competition. I can see it's really grown in popularity too and it's much more competitive this year than ever before.
Q: What has been most surprising about teaching the program?
A: It surprised me in the beginning that what the students had such a hard time getting a handle on was how to respond to the themes in a way that would be competitive [in the competition]. It wasn't about just hitting it on one level or looking at it from one angle. And so that's what I've had to push them on…leading with the story and understanding their own perspective and their own story first before they started coding anything. And if they take the time to do that, they're much more invested in the technical work that they're setting up to complete.
Q: Can you tell us about your students' successes? 
A: We did a day of code where we set up different programming stations in the library for different computer languages and aspects of computer science. Some of them were maker stations with buildings, propeller cars, robotics – things like that. And I had two stations related to Games for Change. One was an arcade where students played impact games. 
I had seniors run all the stations – a lot of them were from my game design class.  What the day of code was about for them was teaching the freshmen and sophomores about programming. They were really, really excited about the stations that were related to game design and Games for Change. So we actually set up a second, mini Games for Change arcade that displayed some of the student work around impact games.  One of my students who won last year displayed her game and talked through the entire design process with the freshmen. They loved it. They were circling around her, lining up, wanting to know all about it… They were so excited. And she's still building on her game. I was listening to some of the freshmen giving her really good feedback about how she can add on and increase the choices and go deeper. It was just a great conversation.So I would say that's a great success – you see one group of students passing it directly onto the next.  
Courses are in progress right now, so I'm sure there will be more stories to come!
Q: What keeps you coming back to the Student Challenge program year after year?
A: I believe in the power of G4C and social impact games. It is a joy to see the students so motivated every year to do this meaningful work.
---
Student Games from STEM Academy of Hollywood
Play some of the amazing competition-winning games created by Jennifer Stone's students.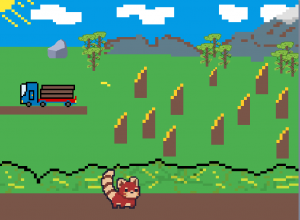 The Life of a Red Panda
2019 Los Angeles Grand Prize Winner
An adorable red panda needs your help to evade poachers and make it back to its family. Don't get caught!
Click here to play

Avery's Way
2019 Disrupt Aging: Implications Of Living 100 High School Winner
In this choice-based game, a young woman makes the tough decisions we face as teenagers.
Click here to play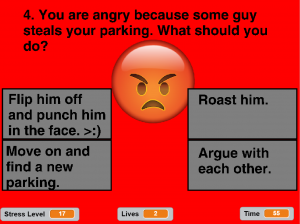 The Stress Quiz
2018 Kindness & Empathy High School Winner
Pit yourself against the clock to correctly answer each question about stress and stress relief.
Click here to play
For more success stories, check out another inspiring Teacher Spotlight here, featuring Detroit's Melinda Bush!