An evil robot army is on the march, and it will take top-tier teamwork between humans and their canine companions to save the day.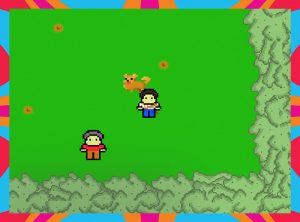 Such is the premise of Companion Rescue, a frenetic educational video game built last year by a Detroit high schooler. It was designed around the theme of "the animal-human bond." Fittingly, players must use a combination of the dog's bark and its master's attack to triumph, and the levels are peppered with facts about how pets lower cortisol levels and combat loneliness.
Even while you dodge lasers and whizz past 8-bit baddies, you cannot help but learn.
Companion Rescue was a winner of the 2020 student challenge run by Games for Change (G4C), a non-profit that advocates for social change and education through video games. G4C is running the competition again this year and is reaching more students than ever via their online game jams. While the pandemic was an existential threat for many non-profits, G4C flourished as interest in video games skyrocketed and students needed new ways to learn during lockdown.
"We have had an overwhelmingly positive experience as an organization since Covid hit," said Senior Director of Programs Tania Hack. Until recently, she explained, G4C had largely been focused on a handful of large cities, but plans had been in the works since late 2019 to expand to a more national and even international platform. The pandemic accelerated those plans significantly.
"We've all seen games become such important parts of our lives," Ms. Hack said. "They have the power to do a lot of things: they're incredible tools for education; they're incredible tools for connecting with other people; they allow us to build empathy and have agency over our experience. All those things have lent themselves very well to the challenges of Covid."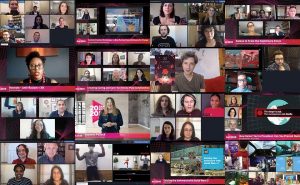 G4C saw its programs boom in popularity since last March. In 2019, their annual conference had just over a thousand attendees; in 2020, their new virtual conference welcomed six times that number, with attendees flocking in from over fifty different countries. During the same period, the number of teachers G4C taught to use games in the classroom almost doubled. They have also begun training museums such as LA's Getty and New York's Metropolitan to run game design workshops.
The idea of using video games for education might horrify some parents who struggle to drag their children away from Fortnite, but educational games have become increasingly mainstream over the past decade. iCivics, a company that develops games about US politics, has reached over 5 million students across the country and has been used by 200,000 teachers. Minecraft's educational content has been downloaded 65 million times.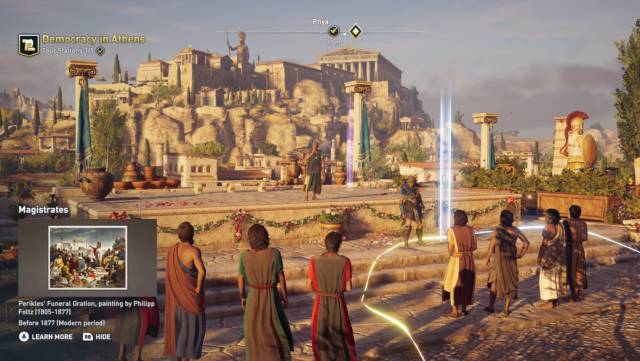 Triple-A developers are jumping on the trend as well. When Ubisoft found out that teachers were using their bestselling Assassin's Creed series to teach history, they created a Discovery Tour version of the games that stripped out the violent gameplay and put the historical details front and center. With the global games industry growing to almost $160 billion during lockdown, educational games like these are only going to become more commonplace.
Professor Bill Watson, Director of the Purdue Center for Serious Games, is a strong proponent of learning through games. "Learners are more willing to spend time playing a game than they are listening to a lecture, reading a book, watching a movie – pretty much anything else," he said. "And obviously, the more time you spend trying to learn something, typically the better you will have learned it." He points out that in games we can also experience situations we cannot in real life, such as launching a rocket into space, and can learn from our mistakes in a low-stakes environment.
G4C's game jams encourage teenagers to learn not only by playing games but by building them as well. In a Zoom session in early February, forty 13–18-year-olds were introduced to Scratch, a game design platform developed by MIT. Professional game developers from G4C walked the teenagers through how to create their own games in only a few hours.
The students' excitement at showing off their creations at the end of the day was palpable. One boy controlling an animated dog burst into a fit of giggles when his jumping animation broke, leaving his dog stranded in mid-air. Another was still at the planning stage, working out the complex mechanics involved in a game about saving household centipedes. The lack of polish did not matter – in no time at all, they had gained skills that gave them total creative control over their own virtual realms.
With connection in the real world next to impossible at the moment, G4C's message of social impact through virtual worlds has struck a chord. The non-profit plans to keep their new online audience in the future with a hybrid model of in-person and online events. In the meantime, their programs will go on helping students learn, finding fun and opportunity in the darkness of the pandemic.