2017 G4C Student Challenge Open For Submissions!
By Sara Cornish
Games for Change has opened the submission portal for the second annual G4C Student Challenge. Games must be submitted by April 1, 2017. Middle and high school students in Pittsburgh, Dallas and New York City public schools are eligible and encouraged to participate. Games must be about one of the three challenge themes — Future Communities, Climate Change, and Local Stories & Immigrant Voices — and playable on a web browser. Access the submission portal here, and learn more about how to get involved here.
G4C is pleased to announce a partnership with the National STEM Video Game Challenge, for a new prize category, the Games for Change Prize. Students nationwide are welcome to submit games designed to help people learn, improve their communities, and contribute to making the world a better place. Students participating in the G4C Student Challenge are also eligible to submit their games to the STEM Challenge. The deadline is May 1, 2017.  The STEM Challenge is hosted by the Joan Ganz Cooney Center at Sesame Workshop, E-Line Media, and founding sponsor the Entertainment Software Association (ESA).
About the G4C Student Challenge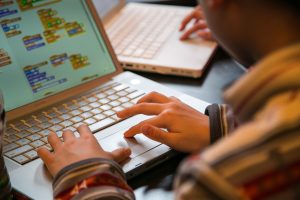 The G4C Student Challenge is a digital game design competition that invites students to create games about issues impacting their communities. As part of the national program, G4C offers game design courses for students in select public schools facilitated by teachers trained and supported by national curriculum partner Mouse. Winners receive prizes from Ubisoft and local civic and cultural organizations. An awards ceremony and exhibition of student games will be hosted in each city in June 2017, and grand prize winners will be honored at the 14th annual G4C Festival (July 31 to August 2) in New York City.
The program website provides multimedia content about each challenge theme, and over 150 resources for both students and teachers, including a gallery of example games and Get Started Guides to help students begin their game projects and teachers introduce game-based learning to their classrooms. Professional game designers serve as classroom advisors to students, and game jams in each city offer further opportunities for students to learn game design and programming, and deep dive into the theme topics with local historians, technologists and scientists.
Participants & Partners
Over 2,000 students have participated in the program, and over 90 teachers have been part of the professional development program from nearly 70 different schools, the majority of which receive Title I funding. Through the Challenge's hands-on game design program, students develop 21st-century skills such as systems thinking and inquiry-based learning by both designing games and engaging in civic problem solving. Teachers learn to use game design as a teaching tool, and communities benefit from students' active engagement in local issues.
The G4C Student Challenge program is run by Games for Change in collaboration with Mouse, Institute of Play, the Sprout Fund and Big Thought, with generous support from the National Endowment for the Humanities, Best Buy Foundation and The New York Community Trust.
G4C is currently seeking partners for the 2018 program. If you are interested in becoming a supporter or bringing the challenge to your city, please email us at [email protected].