The 2nd annual G4C Student Challenge closed on April 12th, 2017. We thank all participating students, and congratulate you on submitting a game to the competition!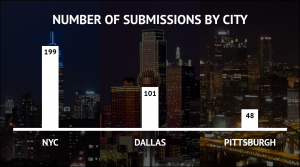 From our three participating cities — NYC, Dallas and Pittsburgh — 748 students submitted games! We received nearly 400 submissions, quadrupling the number of games we received last year.
G4C will be announcing the finalists in May 2017. While our jury reviews each game submission, we would like to share some results of our own.
Awards ceremonies are being held in each city. On June 10th, students in NYC and Pittsburgh will receive prizes on stage at Museum of the Moving Image and Heinz History Center, and Dallas students will be honored at a ceremony and public arcade on June 24th.
Top game company Ubisoft is providing prizes to all winners, with the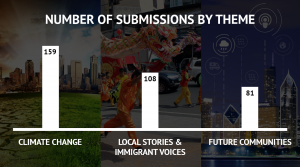 grand prize games featured at the 14th annual G4C Festival this summer, July 31–August 1 in NYC.
A huge thank you to all of the partners, teachers, students and game mentors that made the program possible. Stay tuned for the winners' announcement soon!