We are pleased to announce the 18 winners of our second annual Games for Change Student Challenge in NYC, Pittsburgh and Dallas! Over 2,000 middle and high school students participated in the 2016-2017 Student Challenge, learning game design in public schools and at local game jams.
Students created nearly 400 digital games about three topics: Climate Change (with NOAA), Future Communities (with Current by GE), and Local Stories & Immigrant Voices (with National Endowment for the Humanities). The winning games share the hardships of immigration to the United States, teach strategies for building a greener city to combat climate change, explore the future of transportation infrastructure, and much more.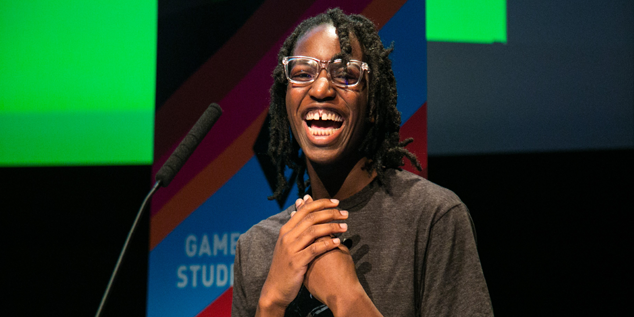 Winners and finalists were presented with career-oriented prizes from Ubisoft and theme partners at awards ceremonies in each city in June. Winning students will have their games showcased at the Games for Change Festival Marketplace and join a special lunch with Ubisoft game developers.
The Student Challenge was led by G4C in partnership with the Sprout Fund in Pittsburgh and the Big Thought in Dallas, national curriculum partner Mouse, and Institute of Play. Program supporters include the National Endowment of the Humanities, Best Buy Foundation, Hive NYC, and Take-Two Interactive.
What's next for the Student Challenge?
We are pleased to announce new partners for the 2017-2018 Student Challenge including Annenberg Foundation and Annenberg Learner, who are bringing the program to Los Angeles public schools, Unity Technologies, iThrive Games, and the Born This Way Foundation.
G4C is seeking additional partners to support the Student Challenge with program funding and theme sponsorship. Please email [email protected] if interested.
NYC Student Challenge
On June 10, G4C hosted the second annual Student Challenge awards ceremony and arcade at the Museum of the Moving Image. Nearly 200 attendees came to celebrate NYC's best young game designers, including families, teachers and program partners.
All 18 finalists were showcased in an interactive arcade where students demoed their games. The awards ceremony was held in the Museum's theater, featuring remarks by three teachers, Alex Fleming from our national curriculum partner Mouse and Matt Farber who recapped our Moveable Game Jam series.
Prizes were presented to 10 winning teams, including games from Ubisoft, a tour of NYU Game Center, Arduinos, tours of the American Museum of Natural History, Museum of the City of New York, New-York Historical Society and a walking tour of DUMBO by a Brooklyn Historical Society scholar.
The winners of the NYC Challenge are:
Future Communities category, Current by GE:
Adventures through smart cities – Herbert H. Lehman High School
Cleaning the City – J.H.S. 157 Stephen A. Halsey
Climate Change category, NOAA:
Green Hero – High School of Art and Design (Grand Prize Winner Runner-Up)
Climate Controller – Irwin Altman Middle School 172
Local Stories and Immigrant Voices category, National Endowment for the Humanities:
Through The Eyes of the Beholder – Brooklyn Generation High School
Adventures in New York – The 30th Avenue School (Grand Prize Winner)
G4C is pleased to recognize four outstanding NYC schools that each had over 40 games submitted by their students: P.S. 102 Q, Irwin Altman M.S. 172 and Edward Bleeker J.H.S. 185 in Queens and John Dewey High School in Brooklyn.
Congratulations to the 89 finalists and all participating students in the third annual NYC Student Challenge!
Pittsburgh Student Challenge
The Pittsburgh awards event was hosted at the Heinz History Center by the Sprout Fund on June 10, bringing together over 120 people to celebrate the winners and play students' games. Finalists and winners received their prizes onstage with introductions from theme partners including the National Endowment for the Humanities and the Department of Innovation & Performance for the City of Pittsburgh.
Prizes included a tour of the Carnegie Mellon University (CMU) NavLab where they're making autonomous vehicles, a behind-the-scenes tour of Carnegie Museum of Natural History and the National Weather Service station, work with Heinz Center museum educators to lead Hello Neighbor, a new exhibit and education program they're launching around immigration, and a tour for all winners of CMU's Entertainment Technology Center.
The winners of the Pittsburgh Challenge are:
Future Communities category (Current by GE):
City Sim – Fort Couch Middle School
Project FC – PA Distance Learning Charter School
Climate Change category (NOAA):
Global Warming Adventures – Fort Couch Middle School
A Changing World – PA Distance Learning Charter School
Local Stories and Immigrant Voices category (National Endowment for the Humanities):
Beyond the Borders – Cornell School District
Reflections: Generations of the Past – Trinity Area School District
Dallas Student Challenge
On Saturday, June 24, the Dallas awards ceremony and arcade was held at the Frontiers of Flight Museum as part of a citywide Tech Turn-Up event co-hosted by city nonprofit Big Thought. Partners from Codestream Studios, Dallas Innovation Alliance (a Future Communities local partner), Frontiers of Flight Museum, Director of Dallas ISD STEM and a rockstar teacher from Skyline High School gave remarks and presented awards to students.
In addition to games from Ubisoft, students were awarded tours of Dallas' history museums, IBM Smart Cities facility, and local National Weather Service station.
The winners of the Dallas Challenge are:
Future Communities category (Current by GE):
Keeping The Future Beautiful – Raul Quintanilla Sr Middle School
Conquest for Energy – Skyline High School
Climate Change category (NOAA):
Climate Change Quiz – Raul Sr Quintanilla Middle School
Arctic Journey – Lakeland Christian Academy
Local Stories and Immigrant Voices category (National Endowment for the Humanities):
Immigration Simulator – Raul Sr Quintanilla Middle School
New Home – Skyline High School