Games for Change (G4C) is excited to announce the launch of the 5th Annual G4C Student Challenge in New York City, Los Angeles, Atlanta and Detroit – and this year we are reaching more schools, teachers and students than ever before!
The Games for Change Student Challenge is a national game design program that invites students to create digital games about issues relevant to their lives and communities. The Challenge exposes students to career opportunities in STEM and game design, engages and empowers them around civic issues impacting their communities, and develops 21st- century skills like critical thinking, creativity, and collaboration. In addition, teachers are trained to use game-based learning tools and approaches as ways to deepen student learning and engagement.
During the 2019-2020 school year, 192 teachers from 162 schools (80% Title I schools) will participate in the Challenge, incorporating an impact game design curriculum into their classes and after school clubs. The program will also feature mentorship by professional game designers, field trips to industry leaders (including Riot Games and Two-Bit Circus), a series of local game jams and workshops for students to hone their game-making skills and learn about social issue themes with multimedia content provided by cause-based partners
As in past years, the program will culminate in a game design competition; students submit original impact games for the opportunity to win awesome prizes including technology, learning experiences, and a $1,000 Grand Prize Scholarship, generously provided by Take-Two Interactive.
Kick-Off
This Fall, the program kicked-off with two days of professional development (PD) for new educators in each of the four participating cities. During the two days of PD, educators were trained to teach game design (using digital platforms like Scratch, Unity and Twine), created analog and digital games, explored arcades of exemplary impact games (both professional and student-made) and learned about this year's social impact topics from program theme partners. Teacher trainings were facilitated by Games for Change and national curriculum partner, Mouse, and in partnership with local anchor partners including Two Bit Circus Foundation in Los Angeles and Georgia Tech Research Institute (GTRI) in Atlanta.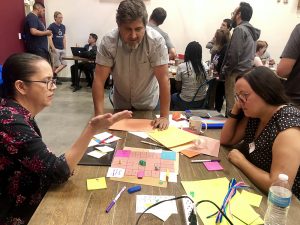 Social Impact Themes
Each year, G4C works with theme partners to develop prompts for student games and provide multimedia content for students to use to inform their games. Theme partners also attend local game jams in each participating city to share their expertise and engage students directly.  This year, we are thrilled to be working with four distinguished organizations around four pressing issues for teens today:
Supporters of the 2019-2020 G4C Student Challenge include Take-Two Interactive, Annenberg Learner, Annenberg Foundation, General Motors, Endless, Truth Initiative, AT&T, Bigglesworth Foundation; the National Endowment for the Arts; and the New York City Department of Cultural Affairs.