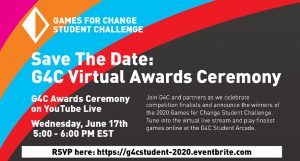 The 2020 G4C Student Challenge program and competition was the most successful to date, with a record 1,600 middle/high school students submitting nearly 1,000 original games related to this year's social impact themes. 
Through a rigorous, 3-round jury process involving professional game designers, theme experts and games industry professionals, we have identified 124 student finalist games, which are currently available to play in the first-ever G4C Student Arcade. 
On June 17th, G4C will reveal the winning games, recognize distinguished cohort educators and celebrate the accomplishments of this year's program during the 5th annual G4C Student Challenge Awards Ceremony. The virtual event will be hosted by G4C President, Susanna Pollack, and live streamed on YouTube Live on Wednesday, June 17th @ 5:00pm EST.  We invite all students, educators, partners, family and friends to join in the festivities.
Congratulations to all Student Challenge competitors – we'll see you at the Awards Ceremony!
---
AND THE WINNERS ARE…
Games for Change is excited to announce the winning games of 2020 G4C Student Challenge competition in each of the following categories: 
GRAND PRIZE WINNERS
(NYC) Move 2 Da Groove! — Sarah A — The School of Interactive Arts

(LOS ANGELES) 

The Good Dog

 — Marc C, Karen M — STEM Academy of Hollywood

(ATLANTA) 

The Good Boy

 — Jacob T — Forsyth Virtual Academy

(DETROIT) Pierre's Party Panic — Eric M — Livonia Career Technical Center
(NATIONAL) Stick Figure Party — Gabriel M — Marlboro Middle School
A CLEAN & HAPPY EARTH — MIDDLE SCHOOL
(NYC)

The Smokey Truth

— Katherine C, Jasmine L — The 30th Avenue School

(LOS ANGELES)

Enough

— Claudio S — Sepulveda Middle School

(ATLANTA)

One Act at a Time- An Impact Game

— Rebecca U, Garret G, Michele P — Bay Springs Middle School

(NATIONAL)

CleanTheWorld

— Geoffrey L — Leon Sablatura Middle School
A CLEAN & HAPPY EARTH — HIGH SCHOOL
(NYC)

Toxic

—  Tedd L —  Stuyvesant High School

(LOS ANGELES)

Don't let cigarettes butts get you!

— Karyna L, Trang H, Ashley A, Melody A — Reseda Charter High School

(ATLANTA)

Clean Up the Earth

— Sheena L — Walton High School

(DETROIT)

Help Save The Environment

— George B, Justin C — Livonia Career Technical Center

(NATIONAL)

Dryad's Dance

— Andrew S, Abhinav R, Esben N — High Technology High School
INCLUSIVE PLAY: DESIGNING GAMES FOR ALL — MIDDLE SCHOOL
(NYC)

The Room (A Story Game)

— Alexandre P, Samuel S — The 30th Avenue School

(LOS ANGELES)

Disabilities isn't Contagious Ignorance Is

— Trisha V — Florence Nightingale Middle School

(ATLANTA)

Triangle in Space

— Jack S — Haynes Bridge Middle School

(NATIONAL)

Nedrof

— Will D, Ethan M, Craig B, Aidan R — Hanes Magnet School
INCLUSIVE PLAY: DESIGNING GAMES FOR ALL — HIGH SCHOOL
(NYC)

Move 2 Da Groove!

— Sarah A — The School of Interactive Arts

(LOS ANGELES)

A Day with Dyslexia

— Lana N — Girls Academic Leadership Academy

(ATLANTA)

Four ALL

— Koen V — PTC

(DETROIT)

Everyday Heroes

— Lydia T — Troy High School

(NATIONAL)

Different Minds

— Ranya D — Northside College Preparatory High School
GET THE PARTY STARTED — MIDDLE SCHOOL
(NYC)

2020: Minigame Madness!

— Araf C — Irwin Altman Middle School 172

(LOS ANGELES)

The Race To Limited Power

. — Aibrin A — Florence Nightingale Middle School

(NATIONAL)

Stick Figure Party

— Gabriel M — Marlboro Middle School
GET THE PARTY STARTED — HIGH SCHOOL
(NYC)

It's Debatable

— Caleb K, Jasmine C, Wancy C — The School of Interactive Arts

(LOS ANGELES)

Party in the USA

— Sasha F, Abigail F — STEM Academy of Hollywood

(DETROIT)

Pierre's Party Panic

— Eric M — Livonia Career Technical Center
BENEFITS OF THE HUMAN-ANIMAL BOND — MIDDLE SCHOOL
(NYC)

Pickle's Quest For Happiness

— Erika Y — PS/IS 102Q

(LOS ANGELES)

Canes Los Loyal

— Kevin G — South Gate Middle School

(ATLANTA)

Ace and Koro

— Michelle P — Trickum Middle School

(DETROIT)

Rock,Paper,Scissors

— Naomi H, Alayna F, Amarii W — Brenda Scott Academy
BENEFITS OF THE HUMAN-ANIMAL BOND — HIGH SCHOOL
(NYC)

Pet Care Palooza

— Sabrina T — Tottenville High School

(LOS ANGELES)

The Good Dog

— Marc C, Karen M — STEM Academy of Hollywood

(ATLANTA)

The Good Boy

— Jacob T — Forsyth Virtual Academy

(DETROIT)

Companion Rescue

— Nolan H — Livonia Career Technical Center

(NATIONAL)

A Dog's Loyalty

— Jadi W  — High Technology High School