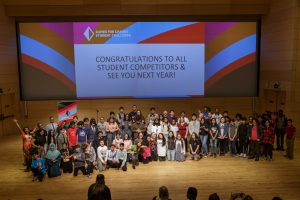 The 2021 G4C Student Challenge resulted in another record breaking year. The competition received 1,011 original games created by more than 1,500 talented middle and high school students across the country. 
Games were evaluated through an extensive review process involving 216 judges made up of games industry professionals, game designers, theme experts, and program partners. Ultimately, the submission pool was narrowed to 133 finalist games, which are currently showcased in a special Student Finalist Arcade on the G4C Student Challenge website and are also outlined in this downloadable Awards Program.
This year, there were more ways to compete than ever before. In addition to creating digital games that address the three 2020-2021 Challenge themes (Advocating for Animals, Build a Better World, Resilience Through Games), students also had the option to complete in three new award categories:
Game Accessibility Challenge

(in partnership with Numinous Games & the Playability Initiative): This new award challenged students to incorporate accessible designs into their games to support the gameplay experience for players with one or more different types of disabilities (including visual, auditory, motor and/or cognitive/learning).  

Fair Game Writing Challenge

(in partnership with the New York Videogame Critics Circle): This new writing scholarship required students to submit two writing samples: (i) a video game review and (ii) a game narrative. Entries were reviewed by expert game journalists and student winners received a $400 scholarship in addition to special mentorship opportunities.

Made with Unity Award

(in partnership with Unity): This special award celebrated the top games developed with the Unity game engine. Games in this category were evaluated exclusively by the team at Unity and student winners received special recognition and mentor opportunities from the company.
THE MAIN EVENT
On June 17th, student competitors were cheered on by their teachers, families and friends as winners were announced and prizes revealed during a 90-minute virtual Awards Ceremony on YouTube Live. The event was MCed  by G4C's President, Susanna Pollack, and featured guest performances by a rapper, gamer and teacher best known as Mega Ran. If you missed the livestream, you can watch the full event on YouTube here. 
You can also catch the Grand Prize Winning games at the 2021 G4C Festival (July 12-14)!  This year, for the first time ever, G4C will feature student-made games alongside the year's best professionally-made games in a booth at the Festival Marketplace. The games will also be highlighted during the G4C Awards Ceremony on July 12 @ 7:30 pm EST and one game will be awarded top honors as the 'G4C Student Challenge Champion.'  You can register for the free, virtual G4C Festival here. 
---
AND THE WINNERS ARE…
Without further ado, Games for Change is excited to share the full list of winners from the 2021 G4C Student Challenge game design competition. Don't forget to swing  by the virtual Student Finalist Arcade to check-out some of this year's winning games! 
GRAND PRIZE WINNERS
[Atlanta]

Gearville Council

| Koen V | Peachtree City High School

[Detroit]

Solitude

| Jazmin R | Livonia Career Technical Center

[Los Angeles] 

Resilient

| Akash S | Chino Hills High School

[National]

Your Box

| Zuriel J | West Campus High School

[NYC] 

A Run for Diversity

| Rafiha R, Ethan L, Anisha D, Andrea K | George J. Ryan Middle School 216
ADVOCATING FOR ANIMALS (MIDDLE SCHOOL)
[Atlanta] 

Taking Care

| Bella A | Barber Middle School

[Los Angeles] 

Advocating For Animals

| Angela C | Florence Nightingale Middle School

[National] 

Those Above Us

| Diego H , Vy N | Wilson Middle School

[NYC]

The Forest Fire

| Maxine M | PS 102Q
ADVOCATING FOR ANIMALS (HIGH SCHOOL)
[Atlanta] 

Caring for the City/Town

| Taeho P | Mill Creek High School

[Detroit]

HabitatHero2D

| Jose E | Detroit School of Arts

[Los Angeles] 

Animals of Impossibility

| Jeremy O | Taft Charter High School

[National] 

Gotta Save 'Em All 

| Allyson M, Anthony M | Liberty High School

[NYC]

Bird Savior

| Omer A | International High School at Lafayette
BUILD A BETTER WORLD (MIDDLE SCHOOL)
[Atlanta] 

Cultures Around the World

| Joanna M | Barber Middle School

[Los Angeles]

Jonah's minecraft world

| Jonah M | Emerson Community Charter School

[National]

 Friendship Builders

| Evan V | Thomas G. Pullen School of Performing Arts

[NYC]

A Run for Diversity

| Rafiha R, Ethan L, Anisha D, Andrea K | George J. Ryan Middle School 216
BUILD A BETTER WORLD (HIGH SCHOOL)
[Atlanta] 

Gearville Council

| Koen V | Peachtree City High School 

[Detroit]

Life of the Changer

| Mark K | Utica Center for Science and Industry

[Los Angeles] 

Diversity and understanding of a simple life

| Prabhjot B | Chatsworth Charter High School

[National] 

The Hegemony

| Lily Z, Tiannie Z | Peak to Peak Charter School

[NYC]

Ability

| Donavin M, Christian C | School of Interactive arts
RESILIENCE THROUGH GAMES (MIDDLE SCHOOL)
[Atlanta] 

Direct the Minute

| Christopher R | Barber Middle School

[Detroit]

Mental health (from a kids perspective)

| Naomi H | Brenda Scott Academy

[Los Angeles] 

Resilience During COVID-19

| John N | Fleming Middle School

[National] 

Resilience through self-care

| Jia M | Saint Ann's School

[NYC]

You've Got Mail

| Stephanie W | The 30th Avenue School 
RESILIENCE THROUGH GAMES (HIGH SCHOOL)
[Atlanta] 

Learning About Mental Anxiety

| Ronan T | South Forsyth High School

[Detroit]

Solitude

| Jazmin R | Livonia Career Technical Center

[Los Angeles] 

Resilient

| Akash S | Chino Hills High School

[National] 

Your Box

| Zuriel J | West Campus High School

[NYC]

With a Little Help From Friends

| Priscilla X, Chloe C, Justin T | The Bronx High School of Science
GAME ACCESSIBILITY CHALLENGE
[Atlanta] 

The tame of a horse

| Cayden R | Cass High School

[Detroit]

Animal Time

| Andrew T | Livonia Career Technical Center

[Los Angeles] 

Dragon Cats

| Pandora L | North Hollywood High School

[National] 

Growth

| Neha V | Dougherty Valley High School

[NYC]

Rebounding Resilience

| Christopher S | Herbert H. Lehman High School
MADE WITH UNITY
[Atlanta] 

Octopus Traveler

| Jason J, Bryan C, Alex V | Paul Duke STEM High School

[Detroit]

HabitatHero2D

| Jose E | Detroit School of Arts

[Los Angeles]

Animals of Impossibility

| Jeremy O | Taft Charter High School

[National] 

Your Box

| Zuriel J | West Campus High School

[NYC]

You've Got Mail

| Stephanie W | The 30th Avenue School
FAIR GAME WRITING CHALLENGE
[Atlanta] 

Out of My Mind

| Noah B | Paul Duke STEM High School

[Detroit]

Terror of the Loch Ness

| Cassidy M | Paul K. Cousino High School

[Los Angeles] 

I'm in the TV

| Delia M | Girls Academic Leadership Academy

[National] 

Future Seekers

| Sam S | Upper Dublin High School

[NYC]

iCats

| Mary W | The Urban Assembly Maker Academy