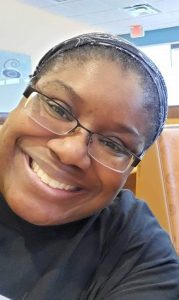 TEACHER: Saundra Watts
TEACHER COHORT: Atlanta
SCHOOL: Barber Middle School
SUBJECT AREA: STEM/Computer Science
YEARS PARTICIPATED IN THE PROGRAM: 4
Games for Change is excited to recognize the accomplishments of all-star teacher Saundra Watts from the Challenge City of Atlanta. Saundra is a multi-year Student Challenge educator and the recipient of the 2021 G4C Leadership Award for her outstanding work and enthusiastic involvement year after year (check out her acceptance video on the Challenge YouTube Channel). Her students are also award recipients, taking home 3 wins for Barber Middle School in last year's game design competition.
We're thrilled to welcome Saundra back to the Atlanta teacher cohort for the fourth year in a row. As game design classes launch across the country, we looked to Saundra for some inspo, advice, and to get to know her a little better.
Q: What would students be surprised to learn about you?
A: I did not start loving technology as much as I do now.  My first love since elementary school was reading. I would read two to three books a week, and when I started teaching, reading was my favorite subject to teach.
Q: If your life became a video game, what genre would it be?
A:  If my life became a video game, I would be in the action-adventure genre. Something is always happening in my life, and I am always seeking new adventures to try out.
Q: If you were trapped in a video game, what would be your key item?
A: An invisibility costume. With that, I can stake out potential dangers and get them before they get me.
Q: What made you decide to participate in the G4C Student Challenge? How many years have you participated?
A: One day, I was on Facebook, and I saw a mention of the Games for Change Student Challenge. I checked into it, and I wanted to be the first in my County to participate in this competition (because I love being first)…It is the highlight of the school year for me.
Q: What types of skills have your students built through this program?
A: My students have learned the skills of a true game designer. They know how to make their own sprites, obstacles, and rewards, and this year, they will be able to make their own background music. But most of all, my students have learned how to make games for others to play. They have become makers of technology and not just users of technology.
Q: Tell us about one of your students' successes.
A: I had a student struggling to make her game because it would not work the way she wanted it to work. I told her to keep on trying, and when we entered it into the competition, I knew the game would be great. She won first place. She said that was the first thing that she had ever won, and it happened to be a Tablet; she was over the moon happy. I was very proud of her for not giving up on the game.
Q: What type of environment do you strive to create in your classroom?
A: I strive for a classroom environment that the students enjoy being in and learning in. I try to make it a class where they don't depend on me for their learning, but one where they learn to use their resources to help them – like each other or even using YouTube. I want my students to be self-taught because so much of what we do in my class can further what they learned by watching videos that people post. I want my students to have ownership of their learning and become leaders and teachers themselves. If they could do this in my class, I hope they can do it in their other classes.
Q: What accomplishment are you most proud of as a teacher this year?
A: The accomplishment that I am most proud of this school year is the number of new things that I could teach my students how to do in Scratch. I am now teaching them to hone in on their talents to add to their work in my class. I wrote a grant to get drawing tablets with styluses to create their own original characters and backgrounds, and for keyboards where they can make their own music, turn it into an mp3 and then upload that into the games that they make. I am proud that I'm continually looking for new things to make my students great and that they are happy to learn these new things.
Q: Do you have any words of advice for other educators teaching game design?
A: Teaching Game Design is the best unit that you can ever teach. The students get so excited and love to share the games that they make. You, as the teacher, just need to teach the students the basics and leave it to them to make the magic.
Play the winning games created by Saundra's students for the 2021 G4C Student Challenge competition!
---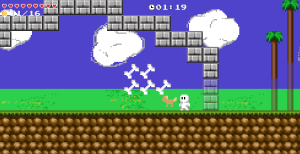 2021 Middle School Winner
Advocating for Animals
A new bond with your adopted dog results in a lesson of responsible pet ownership in this fun arcade-style platformer.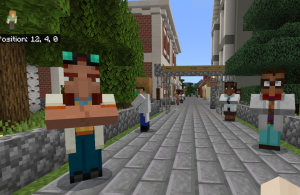 2021 Middle School Winner
Build a Better World
Talk to your neighbors and learn all about their diverse backgrounds, traditions, and perspectives.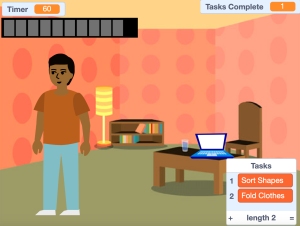 2021 Middle School Winner
Resilience Through Games
There are only so many hours in a day. Complete your tasks before time runs out!