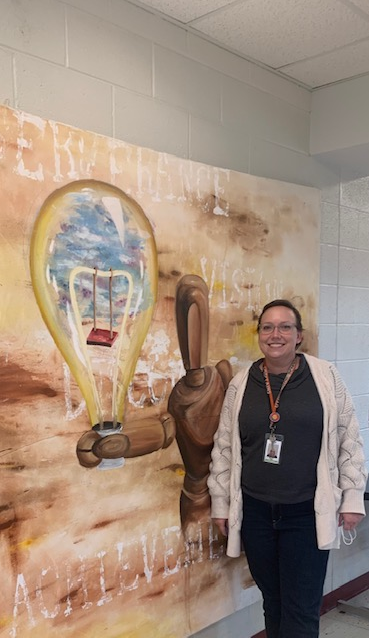 TEACHER: Melissa Webb
CITY: Sterling Heights, Michigan
SCHOOL: Utica Center for Science and Industry (UCSI)
SUBJECT AREA: Mathematics, Engineering, Mechatronics, & Multimedia
GRADE LEVEL(S) TAUGHT: 10-11
YEARS PARTICIPATED IN THE PROGRAM: 3
Melissa Webb is a rockstar teacher from Michigan, who has been with the Student Challenge for 2 years going on 3! I can't imagine how proud she was when she learned that her students Drew and Logan (aka Team Recovery) and the game they created: Port Pickup, were the National Champions for the 2021-22 student competition. She is one of 5 amazing teachers who received last year's Leadership Award for her dedication and unyielding spirit. Let's hear what wisdom Melissa has to give us.
Q: Do you consider yourself a gamer? What is your favorite game? What got you interested in teaching game design?
A: The last game I played was Mario Kart. I am not a gamer! When I saw the opportunity Games for Change  offered to students, I had to jump on it. CSI is a cross-curricular program where teachers create occasions for students to apply their knowledge to real-world scenarios and emphasize design thinking. The Student Challenge was the perfect fit; students collaborating on coding while also designing art plus the incorporation of English skills when researching and writing directions/instructions.
Q: What type of environment do you strive to create in your classroom?
A: "Relaxed Alertness" describes my class environment. High challenge while having a feeling comfortable taking risks.
Q: What made you decide to participate in the G4C Student Challenge? What was your experience with video games before?
A: Last year was my second year with Games for Change; my first was completely virtual and second I was out on medical leave and ran the club virtually once again. I wanted to contribute to the environment of CSI and bring a club that utilized all the skills teachers emphasize. Before Games for Change my experience was ZERO. Attending the professional development G4C provides was critical for me to implement game design.
Q: What types of skills are students building through this class/program? Do you have any anecdotal stories?
A: My students talk to me about the connections they make between design and coding as well as how collaboration works outside of a structured classroom. Without specific guidance in class, students need to manage their time and projects.
Q: What do you like most about teaching game design?
A:  I do not teach coding, digital media, or research. My job is to provide the opportunity to apply their design thinking and the teachers in our program (CSI) provide the rest of the skills.
Q: Tell us about one (or more) of your students' successes.
A: The greatest success has been the number of students interested in joining the club because of word-of-mouth from their peers. Best. advertisement. ever.
Q: How has this program changed the way you teach?
A: I run the G4C Student Challenge as a club. It does help when doing cross-curricular work and incorporating other subjects like English and engineering in mathematics. Students that are involved in the club have an easier time seeing the connections between subjects and real-world application.
Q: What has been most surprising about teaching the program?
A: Most surprising about teaching the program is that students want to stay in my class after the bell and they want to work on their projects during lunch and after school. 
Q: What has been the most challenging aspect of teaching this course?
A:  Time and time management. Students have difficulty managing the project as a whole when there are multiple parts. Mini deadlines help, but they students really are only accountable to themselves and team members. The students in the club need to manage their own time; I cannot do it for them.

BONUS Question! What was the first game you remember playing? Either analog or digital.
A: On the Atari computer, Donkey Kong.